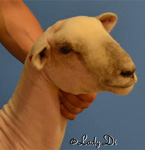 Lot: 2214
Tag: Forsee R15-086
Bood: RRNN EDF
DOB: 2/02/15
Sire: Stonehenge
Dam: CJ Robinson 9007 Donor
This gal has been flushed by CJ and as well as ourselves producing rams that are being used by Gary Jennings/Hired Hand, CJ Robinson, and our Texas Rock along with several other elite breeders. Kyle Smithwick and ourselves have a flush mate to this guy. We kept several females and sold several others online this spring as well. This guys is extremely complete and will make the right kind.
Thanks to Ray Rust for his $1,500 purchase.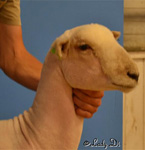 Lot: 2215
Tag: Forsee R15-140
Bood: RRNN EDF
DOB: 2/19/15
Sire: Eclipse (2014 Grand Champion Ram NAILE Jr. Show)
Dam: Forsee E12-020 a Wilwerth R2132 Daughter
Eclipse has already made a name for himself after his first crop. This buck lamb is one we had slated as a keeper and planned to use and show, but since we aren't going to make All-American we decided to offer him here.
Thanks to Beckmier Brothers for their $2,500 purchase.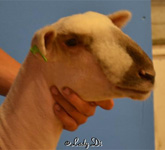 Lot: 2216
Tag: Forsee R15-095
Bood: RRNN EDF
DOB: 2/02/15
Sire: Eclipse
Dam: Forsee E09-197 a Forsee R07-050 daughter
This was our lead ewe for the national sale, but she got hurt and couldn't go. Her mother is our lead donor. She is our of Revelation's mother and also is a twin sister to "Rupp's" dam. She has put multiple sheep in our show flock each of the last three years. We have flushed several of her daughters and will be adding more to the donor pen this year. Big time donor potential in this one.
Thanks to the University of Findlay for their $2,400 purchase.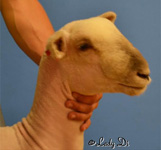 Lot: 2217
Tag: Forsee R15-106
Bood: QRNN EDF
DOB: 2/08/15
Sire: Stonehenge
Dam: CJ Robinson 0056 a CJ5108 daughter
This stout ewe will not only make a show sheep, but be a great momma once her show career is over. We bought the CJ flock to cross on some of our studs to make sheep like this one... Size with proven power and proven genetics.
Thanks to Mike Jones Club Lambs for their $1,300 purchase.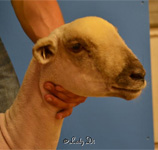 Lot: 2218
Tag: Forsee R15-182
Bood: QRNN EDF
DOB: 3/01/15
Sire: Man O' War
Dam: CJ Robinson 0140 a Houdini Daughter
This little gal is raw think, but designed as cool as they come. Study her lines and shape, all she needs is time. We intentionally held back some of the better CJ ewes to breed to Man and loved the results.
Thanks to Troy Longnecker for his $1,000 purchase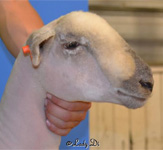 Lot: 2219
Tag: Forsee R15-192
Bood: RRNN EDF
DOB: 3/04/2015
Sire: june Buck
Dam: Forsee E12-262 a Forsee R12-260 daughter
This fal is the big growthy ewe of the set. The June Buck is a farm favorite and her dam has a show ewe build. She is as extended as they come and will make a great show ewe later this fall and will be a top notch yearling.
Thanks to Mindy Reid for her $1,400 purchase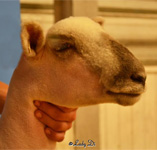 Lot: 2220
Tag: Forsee R15-054
Bood: QR+NN EDF
DOB: 1/18/2015
Sire: Forsee R13-077
Dam: Ballard 717 Donor a Ballard 406 daughter
This ewe made her way to us after being flushed several times by Aaron Jennings, and you can find her throughout many of his pedigrees. She is a can't miss female and you can see those maternal traits shine through in this one.
Thanks to the University of Findlay for their $1,150 purchase.